Nessy Troubleshooting (Firefox, Chrome and Safari)
Nessy does not work with Internet Explorer or Microsoft Edge
Solution 1. Clear your browsing data
When you load Nessy web pages, the browser creates a copy of that page on your computer. This is useful because it speeds up loading times but sometimes things can get stuck. When changes have been made to Nessy, your Internet browser might try to use an old page instead of the new one.
A quick solution if a page gets stuck loading:
Windows: hold down Ctrl and click the Reload button (or press F5)
Mac: hold both the ⌘ Cmd and ⇧ Shift keys and then press R (or hold Shift and click the Reload button).
If this does not solve the problem please see instructions below on how to clear your browsing data for the browsers mentioned above. Sometimes clearing a single page is not enough and you need to clean out all the old pages. A browser stores information about every website you visit and over time this stored information builds up and makes things slow down. After doing this, your browser will have to re-cache every page you visit, so the first time you go to a new page it will be slow, but speed up afterwards.
Chrome
1. Go to the Chrome Menu 
> Settings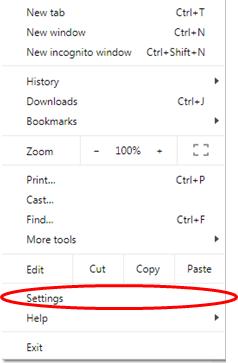 An alternative to this would be to use the following keyboard short cut:
Windows: Ctrl, Shift, Delete
Mac: Cmd, Shift, Delete
2. Search 'Clear browsing data' in the blue search bar at the top of the page.

3. Select the Clear browsing data option (usually found at the bottom of the menu after the search)
4. Change the time range to 'All Time' and tick the 'Cookies and other site data' and 'Cached images and files' boxes. Then click the blue 'Clear data' button.
Safari
1. Go to Safari > Preferences
​
2. Select the Privacy option
​
3. Click on 'Manage Website Data'
​
4. Click 'Remove All'
Firefox
1. Go to Firefox menu
 > Options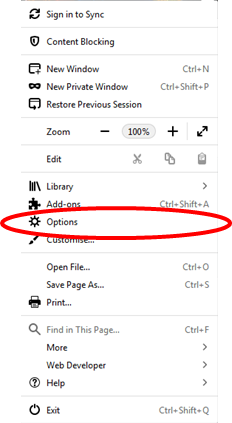 2. Select 'Privacy & Security' in the side menu and then scroll to 'Cookies and Site Data'
3. Select 'Clear Data'
4. Make sure both boxes are ticked and select 'Clear'.
Solution 2. Update your browser
The first thing to do is check your browser up-to-date.
In Firefox, Select 'Firefox' then 'About Firefox'.
In Chrome, Select 'Chrome' then 'About Google Chrome'
In Safari updates are managed through the App Store 
​
Solution 3. Reset preferences
When you assign a homepage, set the default search engine or pick where downloads are saved, this is stored in a preferences file. When that file becomes corrupted, the browser can start acting strangely. If its not loading certain websites, lags, or freezes, chances are the problem is broken Preferences.
In Chrome, from the 'Menu' 
 button in the upper-right corner of the Chrome window, choose 'Settings'. At the bottom of the page select 'Advanced' then 'Reset'
In Firefox, open Firefox and go to this support page, then use the 'Refresh Firefox' button.
https://support.mozilla.org/en-US/kb/reset-preferences-fix-problems
4. Remove extensions
Extensions let you do extra things in a browser, but because they are add-ons, they can cause problems, especially if they aren't regularly updated. To find out which of your extensions is causing trouble, run a quick test by unchecking/disabling an extension and loading Nessy in a different tab. When you've identified the culprit, uninstall the extension.
In Chrome, from the 'Menu'
 button in the upper-right corner of the Chrome window, choose 'More Tools' then Extensions'.
In Firefox, select 'Tools' then 'Add-ons' then 'Extensions.
In Safari, select 'Safari' in the menu. Select 'Preferences'. Select the 'Extensions' tab. Uncheck extensions one by one and see if the problem goes away.
​
​
5. Outdated plugins like Flash
Many websites require Flash to play video or animated content. These plugins can drag the browser's performance down if they are outdated, so the reason why Safari is running slow and gets stuck loading pages could be just that. Nessy Numbers is the only Nessy program that still requires Flash and this is being changed in the near future.
The best way to install the most recent Flash player is to download it from Adobe's website. The page automatically identifies if the Flash player is up to date and will give you the download link if it's not.