How to login to Admin & Reports
Click on the 'Login to Admin & Reports' button. There is no need to enter your secret word. This will allow you to access the Admin & Reports login screen.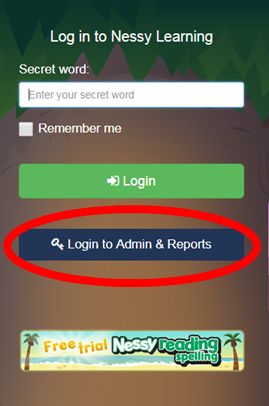 Use the email address and password that was used to set up your Nessy account either when purchasing or setting up a free trial.
 Teachers will now be able to access the admin and reports section using their own email address and password. To set up your teachers as Admin & Report users please see these instructions: https://nessy.zendesk.com/hc/en-gb/articles/360022965172-How-to-create-users-for-the-Admin-Report-section